Staff
As a Financial Representative for the Northwestern Mutual Financial Network, I am committed to helping my clients whether they are concerned for their own financial needs or those of their family or business. I don't do it alone. Here you will find a listing of the people who help make it happen.
Together, we stand committed to providing the best customer service possible. If you have a problem or need assistance at any time, please let us know.
Kristi A Huls
Associate Financial Representative
(320) 223-6637
I am currently on the Rocori Booster Club Board of Directors. This club raises funds to support the local school athletic programs. I organize the Red River Run which is the 2nd oldest run in Minnesota, next to Grandma's Marathon. In addition to the Red River Run I am actively involved with the other fundrasing activities and promoting membership opportunities.
For the Rocori Track and Field varsity team I volunteer by taking action photos during the meets and  providing updates to the local paper every week.
I was the Volunteer Director for the Old Glory Run from 2007-2013 which is held in May each year in Cold Spring. It is a fund raising event to support military veterans.
My background is in manufacturing. I have a Bachelor's degree in Engineering Technology and worked in the engineering field for 16 years before joining my husband, Russ, at Northwestern Mutual. My experience is split between working for Caterpillar Paving Products in Brooklyn Park, MN and DeKalb, IL and being the engineering manager for The Antioch Company/Creative Memories in St. Cloud, MN. The varied experience from both companies helped define me as a person and broadened my knowledge and skills.
We are both very committed to all of our clients and enjoy watching their lives change and grow and adjusting their plans to meet their changing needs.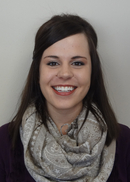 Tamara Lee Krueger
Associate Financial Representative
320-223-6631
I joined Russ and Kristi in 2013 to help support their growing business. I truly enjoy working with them and our clients to ensure all of the service work and file preparation is completed accurately and timely. You can call me anytime, too.